Greenhill Returns to a Somewhat Normal Environment
For the past 18 months, COVID-19 has taken over the Greenhill community. Activities and events such as spectators at sports games, concerts, musicals and field trips were postponed. Many teachers and students made it clear that the feeling of not being able to have these experiences made the community much harder to connect with.
"I have been pleased that we have been able to add back some of our traditions and community events this year," said Associate Head of School and Chief Financial Officer Kendra Grace.
Grandparents' day, senior brunches and the eighth grade Washington, D.C. trip are just a few of the things that were canceled last year. As the 2021-2022 school year has progressed thus far, many, almost all, of these events have been put back in place. When indoors, masks are required but many teachers agree that seeing students, teachers and families interact once again is exciting.
Although the journey to get the Greenhill community to where it is right now has been tough, Head of School Lee Hark and the team of administrators are very pleased to see the re-openings of many activities.
"I've got a great leadership team; our faculty work really hard, and our families have been incredibly supportive. And so are the students," said Hark.
The Greenhill community has depended on their leadership for the progress they have made so far. The faculty and staff have worked tremendously hard to keep the school in shape throughout this period of time. Not only are the faculty and staff working hard, but the students are feeling quite a transition between this year and last.
"It goes both ways when dealing with COVID-19 now that I am at school," said freshman Christan Park. "Now that I am in person it is much easier to feel like a community but it's definitely harder since I'm new to high school."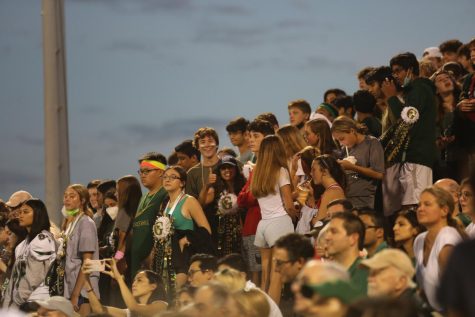 "I'm excited to see how the Upper School grows because I've gone through high school seeing so many grade levels and I am ready to see some new people," said senior Jothi Gupta.
Students, teachers and staff are eager to embark on this new journey. Not only will this year bring less restrictive COVID-19 protocols, but new community bonding activities will help the Greenhill family grow.