Greenhill Families Credited for Unused Lunch During Pandemic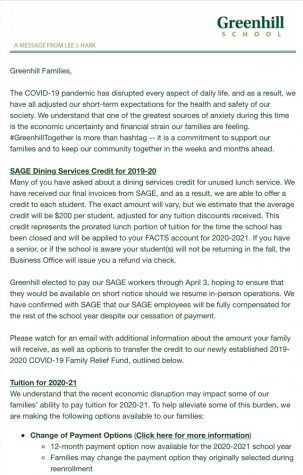 Greenhill families will be getting a credit for unused lunch services after the Covid -19 pandemic forced students to leave campus and shift to distance learning in mid-March.
Head of School Lee Hark announced the credit in a late April email to Greenhill families.
"We gave it as a credit to everybody for next year for tuition," said Greenhill Chief Financial Officer/Chief Operating Officer Kendra Grace. "So whatever they have to pay next year for tuition, we lowered it by that amount."
Graduating seniors in the class of 2020 and students who will not be returning to Greenhill next year will be reimbursed by a check, Grace said.
Under the contract, Greenhill pays SAGE to provide campus dining services for employees and students. The contract covers all aspects of the dining hall and meal services, Grace said.
"It's running the entire dining hall," Grace said. "It's the food, the workers, the menus, the management, the fees that supply all the paper products, it's anything to run the dining hall – even the cups, plates, and glasses."
When Hark announced the closing of the campus on March 13, Greenhill agreed to pay dining hall line workers for the three weeks of the initial quarantine, in case campus classes resumed before the school year ended, Grace said.
"Once they determined we weren't going to open for a while, SAGE took care of [the workers] because they're SAGE employees," Grace said. "Then they went back through their accounting department and figured out what we owed them for the rest of the year."
After that was done, Greenhill calculated the amount of money available for a lunch credit or refund, Grace said.
Families will not receive a tuition reimbursement, Hark said.
"We don't look at the tuition that families pay in slices or increments," Hark said. "We view it holistically. It's also important to understand what our enrollment contracts between our families and the school mean or represent. In one sense, they are an expression of mutual commitments. The school commits to educating our students for that school year. And we do that. And while we've been in our remote learning program, we've still been doing that."
Hark noted that the school had not yet decided how to handle this issue if Greenhill returns to remote learning at some point in the 2020-2021 school year.
Greenhill has granted other refunds to employees or families for services that could no longer be provided.
"For example, the Child Development center is closed, and so we refunded them because we can't take care of those babies anymore," Grace said. "Or Extended Day, we couldn't provide that. Services we couldn't provide, we refunded."
The SAGE dining experience is a campus highlight at Greenhill.
Even though SAGE is hired to provide a service, the dining services team is an integral part of the Greenhill community, Hark said. The SAGE team works closely with Greenhill administrators and students to provide a diverse dining experience while accommodating medical, religious and cultural requirements.
"They're another company, we contract with them, but at the same time they're members of our community too," Hark said. "They want people to be happy, and I hope students have seen that in their interaction with the SAGE staff."