Disrupted Lives
Greenhill Students Caught by the Tornado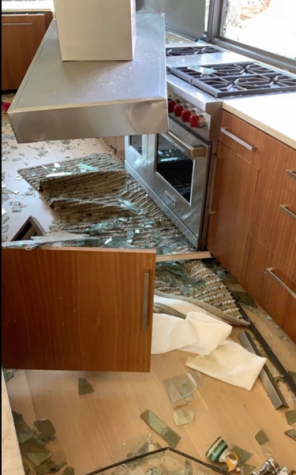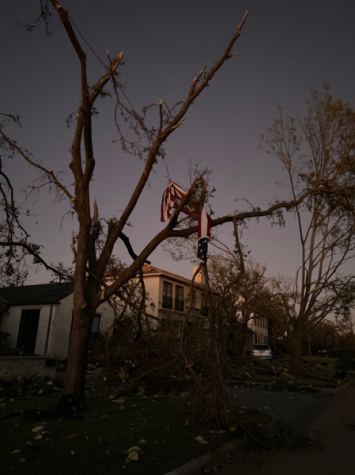 It was the Sunday after Homecoming when most students in the Preston Hollow area were doing homework and getting ready to return to school Monday. Moments later, phones started blaring with alerts and sirens and strong winds interrupted students, forcing them to take cover.
On Sunday, Oct. 19, 2019, an EF-3 tornado hit the Preston and Royal area and an EF-2 tornado hit the Garland area. Winds in Dallas reached 140 miles per hour and 125 mph in Garland. The tornado destroyed homes, schools, and shopping centers in the surrounding areas.
Even those who were fortunate enough to still have their homes felt the repercussions of the tornado. Power was out for several days in the Preston Royal and Preston Forest areas and several trees were down and traffic lights were out.
Many Greenhill students weren't able to return to school the next day, because of power outages, damage to their houses, or road blockages.  Head of School Lee Hark declared later that week that classes would not give homework or have formal assessments until the next Wednesday (Oct. 30, 2019) to help families recover from the tornado damage.
Taylor Walker
Junior Taylor Walker was sitting in her room when both her parents called her downstairs to crouch in the pantry.
"My mom called me downstairs, I thought she was kidding at first. Coming from Los Angeles this whole tornado thing was really new to me," Walker said.
While her home suffered damage she felt that she was lucky compared to those around her.
"It was so scary, I heard all of our windows popping and trees were flying," Walker said.
Walker was not in classes on Monday because her parents were not able to get their cars out. She spent the day helping her mom patch up windows to prevent rain from further ruining the house.
Megan & Allie Zlotky
Sophomores Megan and Allie Zlotky were home Sunday night when their parents texted them to come downstairs. As Megan left her room she heard a loud boom and ran to shelter with the rest of her family in a safe area downstairs.
"We all hid in the bar together and after the tornado had passed we assessed all the damage done. My room was pretty bad, the ceiling caved in on my bed," Megan said.
They will be out of their house for six to twelve months and are moving into a rental house for the meantime.
Varun Gande
Senior Varun Gande lives in the Preston and Royal area and was heavily affected by the tornado. Varun and his family were not anticipating the mass destruction but still took cover in a bathroom in the center of the house.
"We heard a lot of crashing sounds, but we didn't think it would be that severe," Gande said.
They knew to take precautions after the Rain Bomb hit Dallas over the summer. However, this caused significantly more damage than storms in the past.
"After the tornado hit us, we went outside of the bathroom to inspect the damage and all the trees around our house got uprooted," Gande said.
While assessing the damage they discovered that part of their roof was gone along with several trees down and they did not have power for days.
"It's definitely changed my outlook," Gande said. "This experience made me realize the true value of having power, having a roof over your head, having all these things. All these things mean so much to us, but we take them for granted."