Greenhill Students are Staying in Shape Despite Sports Cancellations
The Southwest Preparatory Conference (SPC) has canceled the remainder of its spring sports seasons, and school facilities are closed as a result of the Covid-19 pandemic.
But Greenhill student-athletes are still finding ways to connect virtually with their teams and stay active during the quarantine.
Many students in spring sports have been meeting online through Microsoft Teams. Some are following email guidelines from coaches in their efforts to continue training.
High Performance Center (HPC) faculty have been uploading workouts for different teams on the app TeamBuildr to try and promote activity.
"We've provided workouts for each team that try to incorporate all the components of fitness," Director of Sports Performance Jessen Houston said. "We're even offering more personalized programs based on equipment individual families have. We're also adding videos to our portfolio of exercises so students can more easily follow along."
The track team has met four times online as one large group, and once in smaller groups based on the events that they specialize in. Additionally, they receive weekly emails from their coaches for workout ideas and are required to log them.
"I don't like this situation because I was really looking forward to competing this season, but I think if the team stays working and in shape it will make next year's season that much better," said junior Mahek Gupta, a sprinter on the track team.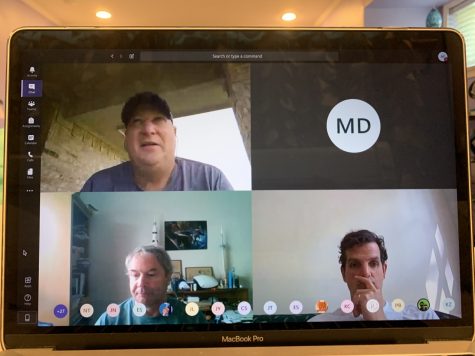 The lacrosse team also meets on Microsoft Teams every B and D day to watch film and go over workouts. Although the Texas High School Lacrosse League has been canceled for the remainder of the season, the team will continue to meet online.
"This season we had a very good chance at winning an SPC title for the first time in Greenhill history" senior Nikhil Ratnam said. "Even though every day it looks less and less likely that we [will be able to] play again, I think our team is doing a good job of staying positive."
The baseball team has not been holding virtual meetings, but the coaches have been in contact with athletes to provide workouts involving arm strength, players said. Despite the canceled season, the team will continue to strive to stay in shape.
"I really think the [future players] have to look to next year and ask ourselves what we can do to be ready for next year," said sophomore Bennett Broaddus, who pitches and plays catcher and shortstop for the team. "As of right now it doesn't look like we'll be coming back to team sports in general anytime soon."
Non-competitive after-school athletics like Total Body Fitness (TBF) and yoga are also finding ways to connect with their students.
For TBF, daily workouts are uploaded to TeamBuildr. Coaches have been trying to assign exercises that all athletes can do at home without access to a gym. Because there is no set system of checking whether a workout is completed or not, it is the students' responsibility to fit their workouts into their own daily schedule.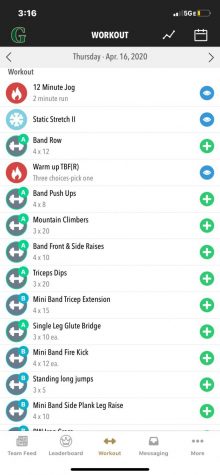 "The biggest thing motivating me at the moment is knowing how much progress I have made in the HPC over the past few months," junior Shreya Saxena said. "In the current situation, you have to make the most of what is given to you, so I have to try my best to maintain my fitness level in more confined spaces."
The yoga class communicates through Teams, where routines and videos are posted in the file section. The students have deadlines on Canvas that tell them when they must complete each workout. Although online yoga class is designed differently than what the students were used to, some have found it relaxing to practice on their own.
"Our teacher likes it when we talk a lot during class because he always makes us do exercises that allow us to talk to other students, but at home, you can't really talk to anybody," junior Sheena Kwon said. "I think I like doing yoga by myself, because it allows me to concentrate more."
Houston recommends exercising five days a week, with three days of light activity and two days of more challenging workouts. Another important part of staying in shape during remote learning is nutrition, and Houston said he will be connecting with the Wellness class to discuss it.
"Eat according to your level of activity," Houston said. "If you're not exercising a lot, make the proper adjustments to stay healthy nutritionally."
Although teams can't meet physically, all sports are encouraging student-athletes to stay active and healthy, even if the season is over. Coaches and future players can still maintain a positive outlook for next year's season.
"I hope students are continuing to prepare for their sports as best they can given these unusual circumstances," Houston said. "I trust our athletes are finding ways to stay athletic so when we return we are ready to compete."
Leave a Comment