Worcester Addresses the Events at the Capitol
Jan. 6, 2021, was a day like no other in U.S. history.
A mob of supporters of current President Donald Trump stormed and occupied the U.S. Capitol Building in Washington D.C., disrupting the certification of the 2020 election results. The event boasted a shocking display of violence in opposition to the American democratic processes.
The events brought the Upper School together on the morning of Jan. 6, when students received an email from Head of Upper School Trevor Worcester about a modified schedule to address what had happened.
Worcester referred to the group who breached the Capitol as "extremists," condemning the event as it directly opposed Greenhill's teachings and community.
"We saw violence, we saw lawlessness and we saw chaos," Worcester said in his speech. "We saw events unfold that were frightening, making some feel scared and unsafe, even as far away as Dallas. We saw people act in ways that are completely counter to our core values and to what's important to us here."
The event shocked students alike.
"The blatant disregard for democracy is what upset me the most," senior Victoria Le said. "I thought Mr. Worcester did a great job addressing the events in a way that made sense of the situation but also gave us steps for reparation."
Worcester also highlighted the racial injustice and inequality he noticed as a result of the events.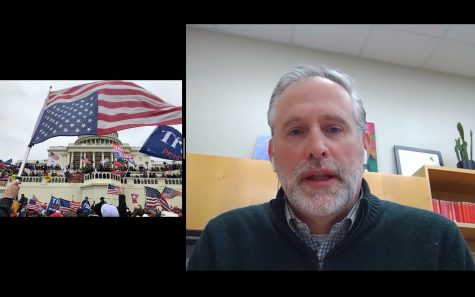 "I watched people who looked like me command privilege where there should have been none to command," he said. "And yet, if you search articles of reputable newspapers from this past summer, you will find images of people of color being disrespected, demeaned and denigrated for exercising their constitutional right."
The events at the Capitol pointed out to Greenhill students and faculty that there is more work to do in the national conversation surrounding race and politics.
"Over the last year, I felt this ongoing political divide and anger between the country and this seemed like the culmination of this strife," senior Misha Weiner said. "But I have this hope that we can overcome it and move on together."