The Weekly Buzz: 'The Hill We Climb'
As the nation welcomed President Joe Biden into office this past Wednesday, the moment that left everybody talking was Amanda Gorman's recitation of her inaugural poem titled, "The Hill We Climb".
Gorman is the youngest inaugural poet in U.S. history and her performance on Wednesday was incredibly moving. The Hill We Climb depicts America rising from this dark chapter we have been experiencing and moving towards a period of unity.
Though this poem was recited on a national stage, Gorman's work was very impactful on a local scale as well. Her poetry has recently been incorporated into several English classes at Greenhill. Specifically, Upper School English teacher Joel Garza has included teachings about Gorman and her poems in his Narrative Nonfiction classes.
"In her inaugural poem, Amanda Gorman accomplished everything that the best poems do—she got us thinking and feeling, she swept us up in imagery and voice, and she animated large abstract ideas in such a way that illuminated our here and now," Garza said.
Garza has a challenge for all other English teachers excited about Amanda Gorman.
"Include living writers in your curriculum all year long, young writers in your curriculum all year long, Black writers in your curriculum all year long, female writers in your curriculum all year long, timely political topics in your curriculum all year long," Garza said. "Voices like Gorman's are valuable, and not just every four years."
As most of us watched the inauguration, whether it was from home or at school, I think it is safe to say that the performance of the inaugural poem was a beautiful moment. Gorman's words seemed to reach through the screen and give us all hope.
"I found Gorman's words in the Inauguration Day impactful because they signaled a mindset shift in the country," junior Josh Rubel said. "Instead of dwelling on the past they 'have their eyes on the future,' prepared to create a new chapter in American democracy."
About the Writer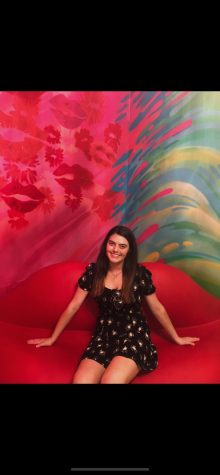 Alyssa Miller, Arts Columnist
I am a senior and the Arts Columnist. This is my fourth year on The Evergreen and I am looking forward to blogging about pop culture and fun trends this...