SPC Announces Cancellation of Fall Season
In an effort by the Southwest Preparatory Conference to adapt to Covid-19,  it announced on August 21 that it is canceling the fall sports seasons, which comes after their previous announcement that canceled the SPC championships.
"Given the Covid-19 pandemic, the SPC Board of Directors approves the cancelation of the 2020 fall SPC athletic season," as stated in a letter given out by the SPC Board of Directors.
Before this announcement, the SPC had planned to begin preseason workouts on September 8, and start SPC competition on September 25.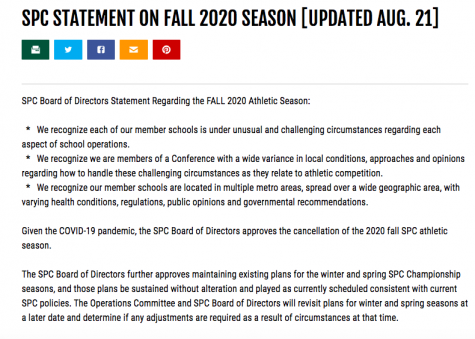 "I was really upset," senior quarterback Gregory Osler said, "but many coaches and staff members have kept me optimistic that we will have a season. I will miss that first step on to the field every day and the happiness the game brings me."
So far, Greenhill still plans to return to on-campus learning on September 8 despite SPC canceling the fall season.
Despite this cancellation, the SPC continues to make an effort to stay on schedule for the start of the winter and spring seasons.
"The SPC Board of Directors further approves maintaining existing plans for the winter and spring SPC Championship seasons," the SPC Board of Directors said, "and those plans be sustained without alteration and played as currently scheduled consistent with current SPC policies."
The cancelations come after Dallas, Texas earned the title Covid-19 'hotspot' with cases climbing to 614,000 and 12,000 deaths.