Socially-Distanced Spirit Week Kicks Off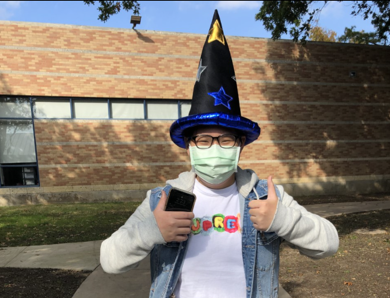 Upper School students kicked off Spirit Week festivities on Wednesday with a Pajama Day, followed by a Crazy Hat Day and senior Wildflower Stomp heading into Friday evening's annual football game against St. Mark's School of Texas.
Traditional Homecoming events have been curtailed because of ongoing COVID-19 pandemic restrictions, but these have been replaced with a Spirit Week that includes many of the traditional Homecoming events.
Spirit Week got underway on Wednesday with Pajama Day, with the week's scheduled on-campus students attending classes in their comfiest home attire. Some students and faculty wore slippers, bath robes, fuzzy socks, flannel pajamas and onesies.
The Evergreen held a best-dressed competition for students and faculty. The winners were Dean of Students Jack Oros, Assistant Head of Upper School Rebecca Shuman and Upper School learning specialist Honelynn Parker, who wore matching Hornet-green flannel pajama pants.
"I like Spirit Week, because you can really get a sense of the Greenhill community," freshman Seth Lee said.
Crazy Hat Day followed on Thursday. Students from all campus divisions could be seen around campus sporting fun hats of all colors, shapes and sizes.
While suited up in their comfiest attire and most stylish hats, the Student Council also hosted traditional Homecoming Color Wars events. The Color Wars events pit students from each Upper School grade in various competitions.
The Wednesday Color War event was the Greenhill trivia contest, in which students representing each Upper School grade answered questions about Greenhill history and traditions. The event was won by seniors, who benefitted from their more extensive knowledge about all things Greenhill.
On Thursday, students representing their respective Upper School grades took part in a fitness challenge.  The push-up contest consisted of students competing to see who could do the most regular push-ups, clapping push-ups and others.
"Frankly I thought it was great," said freshman Julian Meyer, winner of the clap push-up challenge. "It was really well organized and it was more fun than I anticipated it would be, considering it was virtual."
The juniors ultimately won over all, according to 2024 Class Secretary Payton Blalock.
Friday's events include students showing their Greenhill pride by wearing green and gold, the Wildflower Stomp and a senior breakfast. The day's Color Wars activity is a highlight of the traditional Homecoming festivities: "How Well Do You Know Your Partner?," in which participants are expected to answer some trivia questions to see which team knows each other best.
On Friday evening, Greenhill seniors will attend the long-awaited Greenhill football game against rival St. Mark's. Attendance at the game will take place with socially-distanced seating arrangements.
"I'm hopeful that we'll win, but our line plays a big part in that," said freshman running back Zain Crumedy.
Spirit Week activities will continue next week with students in the A-L rotation honoring veterans by wearing red-white-and-blue attire and another green-and-gold attire day. The final Color Wars event will be a "Spelling Hornet" competition.