Singers and Dance Company Put on Spring Pops Performance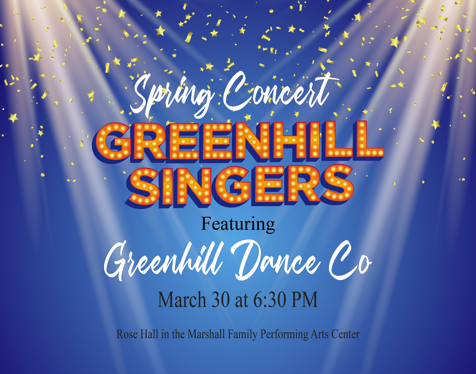 The Greenhill Singers choir will perform a spring pops concert at the Marshall Family Performing Arts Center at 6:30 p.m. tonight (Wednesday, March 30).
The performance will also feature the Greenhill Dance Company.
The choir will be performing songs by artists such as Sam Smith, Adele, and the Beatles duo of John Lennon and Paul McCartney. The 10 songs scheduled to be performed are: "Homeward Bound;" "Blackbird;" "For Good;"  "I Drink;" "All of Me;" "On My Own;" "Pray;" "Seasons of Love;" "You Will Be Loved" and "Somebody to Love."
The Singers choir is comprised of nine members: Ilanna Feldman; Prisha Gupta; Anissa Kanardy-Bryant; Kayla Rutner; Madeline Schlegel; Daniel Smith; Hallie Sternblitz; Laya Venkat and Andrew White.
The two members of the Greenhill Dance Company are Aimee Stachowiak and Natalie Stachowiak.
"Our aim is to highlight soloists as well as ensemble singing," said Director of Choirs Lucik Aprahamian.