Senior Jothi Gupta Leads RG Foundation in Annual Walk to Defeat ALS
Under a sunny sky and temperatures in the low 60s, over 240 people gathered in support of Greenhill senior Jothi Gupta and the foundation she created to support the battle against a disease called Lou Gehrig's disease (ALS).
ALS is a neurodegenerative disease that weakens muscles and impacts physical ability.  It is also the disease that has impacted Gupta and her family's life for the past few years in more ways than they ever could've imagined.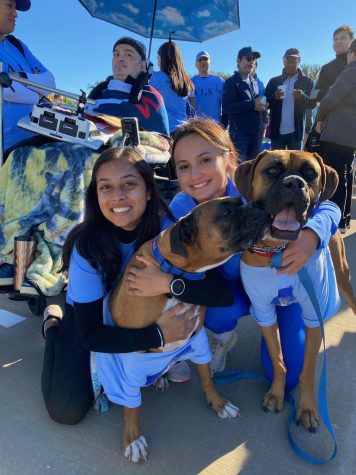 In 2017, Gupta's dad, Dr. Raghav Gupta was diagnosed with ALS, which has now taken control over his movements and ability to breathe and speak.
In honor of his fight and the fight that many others face against ALS, Jothi Gupta and her sister Jaya Gupta created the RG foundation.  The RG foundation is a foundation in their father's name that aims to raise money and awareness for ALS.
Each year, Jothi Gupta and her family participate in the Walk to Defeat ALS, and they encourage members of the Greenhill community and supporters of their foundation to do the same.  This year, the walk took place at 10 a.m. on Saturday, Oct. 30, at Brookhaven College.
Participants walked all the way around the Brookhaven campus, and the enthusiasm and passion for the cause were quite apparent in the walkers.