On that day
A Look Back on the Riots at the Capitol, the Second Impeachment of Former President Donald Trump and the Inauguration of President Biden and Vice President Harris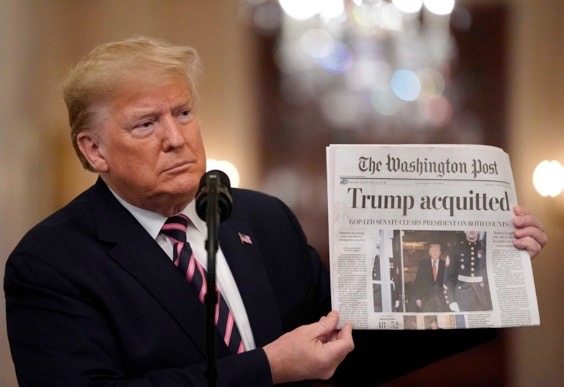 The first month of 2021 was populated with major events surrounding the Trump-Biden transition of power.  Among the forefront of such events were the riots on our nation's Capitol building on Jan. 6, former President Donald Trump's second impeachment on Jan. 13, and the inauguration of President Joe Biden and Vice-President Kamala Harris on Jan. 20.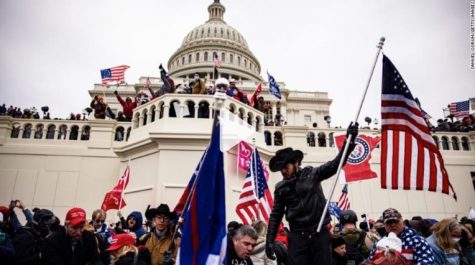 Wednesday. Jan. 6: Capitol Riots
On Jan. 6, a mob of rioters descended upon our nation's Capitol building in an attempt to overturn the outcome of the 2021 presidential election.  Members of the Greenhill community learned of this news in different ways and had a wide array of mindsets coming to school – either physically or virtually – the following day.  Upper School History Department Chair Amy Bresie learned of the news with her fellow colleagues.  She notes that there was an energy of togetherness as they avidly watched for new updates.
"[Director of Academics Jason Yaffe] would stick his head in my door and say, 'hey, have you seen this,' and someone else would say to check BBC America and then a few minutes later, someone else would say, 'Oh, my god, they're doing this or that,'" said Bresie.
In addition to watching the news unfold, anther experience shared among members of the Greenhill community was shock after the violent turn of events.
"I had heard some people were planning to rally in DC on the news, but I didn't expect them to storm the capitol," said senior Ava Markhovsky.
Teachers understood that students needed time and space in order to process the events of the day. Going into school the next day, Bresie said that she felt the need to acknowledge the toll the events had on both her and her students mental states.
"I took these events really hard. I hate it when there is a if such a clear difference between who we say we are, as a nation, and who we actually are… I wanted to give students an opportunity to process what they were feeling," said Bresie.
Upper School history teacher Genie Burke had a similar mindset as she taught her classes the following day.
"I opened up the call for any student to talk about their thoughts about the insurrection. And while every idea was important, I also didn't require students to participate if they weren't comfortable with it," said Burke.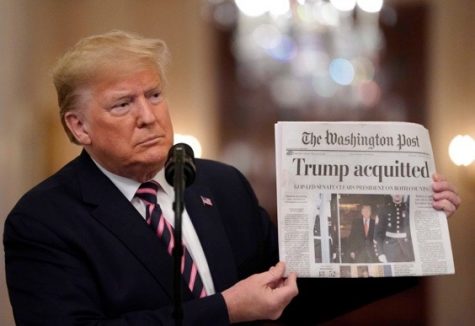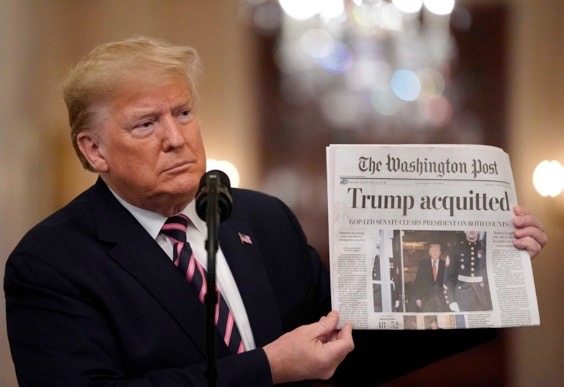 Wednesday, Jan. 13: Former President Donald Trump's Second Impeachment
The ensuing impeachment against Former President Donald Trump on Jan. 13 represented a historical moment: it was the first time a president had been impeached twice and the first time a president has been impeached twice in a single term.
"I'm not sure anything surprises me much anymore. I hope Trump is punished for everything he did, but I don't have high hopes," Markhovsky said.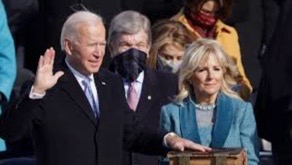 Wednesday, Jan. 20: The Biden-Harris Inauguration
The final of a series of major events in Jan. 2021 was the inauguration of President of the United States Joe Biden and Vice President Kamala Harris on Jan. 20.  A large portion of Greenhill students and teachers were able to view this event together at school, while others tuned in from home.  Bresie, who was able to watch the inauguration with her advisees, said that she enjoyed the sense of unity watching this event together brought.
"I enjoyed watching as a group. It's really felt like an important event…And then we also have goofy moments to look critically at fashion choices. Why was that bird on Lady Gaga so big?" said Bresie.
Markhovsky, who is a remote learner, watched from home.
"In all honesty, I was just terrified something was going to happen. I was worried that someone would make an attempt on the lives of the elected officials. Once Biden actually said the words, I felt better. I of course got excited to see the Obamas and all of the grandkids and Kamala making history, but until the Biden presidency was official, I was holding my breath," said Markhovsky.
"The one thing I am sure of after this inauguration is that some things will be different," said Burke, "Biden and Trump are so different that there will be some things that will change between them."
For Markhovsky, the fact that this inauguration included the first-ever female Vice President of the United States made the event even more meaningful.
"I pulled my younger brother out of class to see Kamala getting sworn in. I want him to hear the words 'vice president' and not just see a man in his mind. I think that image is extremely powerful, whether you love Vice President Harris as a politician or not," said Markhovsky.