Profile: Tony Lopez, MS Band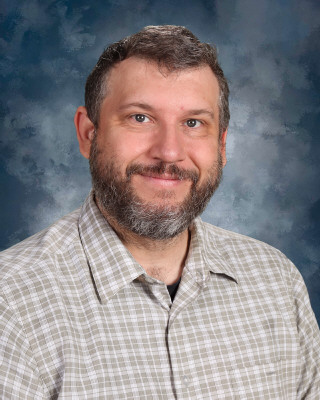 Tony Lopez didn't think he would ever experience something like the pandemic in his teaching career. He certainly didn't think anything like it would happen when he got a new job as a band teacher at Greenhill.
Lopez is teaching fifth through twelfth grade band. He mostly plays percussion, but he does a little of everything, Lopez said.
Introduced to music by his parents, Lopez has been a percussion teacher for twelve years.
"I was raised by two people with degrees in music, so I just grew up with it," Lopez said.
Lopez studied music at Howard Payne University, which he calls "a little private university in the middle of nowhere."
More recently, he taught at Prestonwood High School for eight years and then at some smaller schools in downtown Dallas for three years before coming to Greenhill.
Lopez says the beauty of teaching multiple grades is that he gets to experience multiple styles of teaching music. For example, the Upper School plays more complicated songs since they're more experienced, but the Middle School is more energized about learning new songs, Lopez said.
To make learning more fun for the sixth graders who are taking band, Lopez let them pick their own song to play. The sixth graders ended up with the song "Sucker" by the Jonas Brothers.
When arriving on campus, Lopez noticed how the Greenhill community acted. He remembers thinking about how the high school students and Middle School students interacted with each other. What stood out to him the most was that each grade helped each other, whereas, in the other schools he taught, the high school and middle school students didn't interact with each other as much, Lopez said.
The pandemic has required some changes in the way Lopez teaches his classes and oversees the Upper School Drumline, the percussion group that performs at Greenhill football games.
Earlier this fall, Lopez filmed the Drumline performing songs for the varsity football team when they played away from school. All the recording was done outside and socially distanced. When the Hornets played at Greenhill, the Drumline showed off their skills by playing in person.
At the Halloween parade featuring Upper School seniors, Lopez led the band's familiar fight song and chant. High school seniors dressed up in costumes ranging from blow-up pig suits to minions.
His Middle School band class can be a challenge because the fifth and sixth grade boys sometimes like to hit each other with their drum sticks, Lopez said. As Lopez likes to remind those students, "We beat drums, not people."