Profile: Thomas Martinez, MS Visual and Studio Arts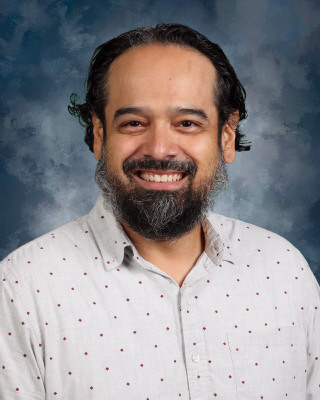 At the start of the 2020-2021 school year, Middle School faculty and students welcomed Thomas Martinez, the new visual and studio arts teacher.
He has been teaching for 20 years. Most of that time was spent in Plano Independent School District, where Martinez taught 2D and 3D art for 14 years.
At Greenhill, he is teaching fifth through 11th grade.
Before he applied for the job at Greenhill, Martinez thought he was never going to teach again.
"When the job opened up, I jumped at the opportunity," said Martinez. "Greenhill is definitely going to give me a unique experience."
Martinez says that when he was younger he loved art and grew up wanting to be an artist. He decided to become an art teacher because of his passion for art. He earned a degree in printmaking from University of North Texas.
 Although he didn't realize he wanted to be a teacher at first, he slowly got into teaching art and realized he liked it.
He is always looking to further his knowledge and teach it to others, Martinez said.
Martinez says that he enjoys teaching because of the students.
"I learn something new every day," Martinez said. "Kids are refreshing to be around. It is nice to hear some of the things they look forward to."
Martinez says that he always tries to include every student in his classes, regardless of whether they are online or in the classroom. The biggest question he asks himself is "Am I doing enough?" He says he is always trying to make sure that he is providing enough material for his students to grow and have fun.
"He is very understanding, and he gets me into the mindset to start my day," said seventh grader Isabel Bhatia, a student in Martinez's drawing class.
"He is funny and weird at the same time, and he always makes the class laugh," Bhatia said. "In every email he sends to his students it always begins with 'Hello party people.'"
Martinez agrees with the description. "I have a bit of wackiness," he said.
Outside of teaching, Martinez has two children and is married. Both children attend Greenhill and his wife also teaches at Greenhill.
In his free time, Martinez watches movies, listens to music, does more art and plays video games. He loves to create and do fun thing as well as hang out with his family.
Before the pandemic hit, he also used to go to his children's sports games and other activities.
Coming to Greenhill during the pandemic was an unusual experience, including online interviews, Martinez said.
"It was a big gamble because I didn't know what it was like," said Martinez.
But, he added, it helped that his wife was a teacher at Greenhill.
"I knew what the school was about, and I had background knowledge on the procedures and teaching," he said.
Overall, being welcomed to a new teaching environment during a pandemic is hard.
Still, Martinez says he feels comfortable with his students and faculty peers.
"Once you get to Greenhill you don't want to leave," Martinez said.