Profile: James Herman, MS History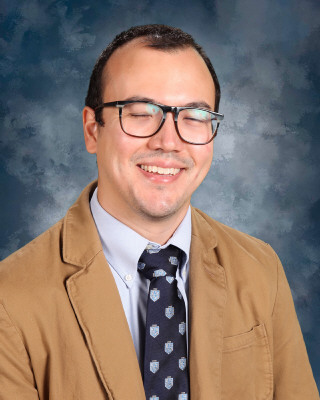 James Herman never thought he would be a teacher when he was young.
That changed when he had the opportunity to transfer to an independent school in the ninth grade, transforming his views on relationships between teachers and students.
Herman's experience helped him see the impact that teachers could have on students' lives. He saw how teachers could connect with students, in and out of the classroom.
The epiphany that Herman experienced during his schooling has become a guiding principle for him as a teacher.  He always attempts to connect with his students in as many ways as possible, Herman said.
One example: Recently, his advisees were teaching him how to play Minecraft, a popular video game for middle schoolers.
"It was a way for me to connect to students on their level and with what's interesting to them," Herman said.
Herman dedicates an abundance of time to being on the lookout for his students 24/7, making sure their questions get answered as quickly as possible and that their grades are constantly updated. The students are of the utmost importance when it comes to Herman, he said.
Herman is described by his students as an innovative and patient teacher.
"Mr. Herman is so understanding and is always available when you need help," sixth-grader Caroline Peterson said. "If you have a missing assignment and you tell him you have turned it in, he will check within an hour to see and mark it not missing."
Herman came to Greenhill School with a background in teaching. Formerly, he taught at Parish Episcopal School in Dallas.
He says he decided to come to Greenhill because of the community.
Herman describes himself as more of an introvert who is not opposed to going long periods of time without seeing others. While he is content with this, he believes strongly in the importance of being in a community.
"It was good for me to find a community in which people depend on me and people look up to me, and also [where there are] people I can lean on as well," Herman said.
Herman's students describe him as a down-to-earth, kind teacher who they can look up to. According to Herman, he strives to gain the trust of his students, and he believes it is important for them to feel like they are always able to talk to him.
"I care a lot about the students, not just about their progress, but also their well-being," Herman said. "I think my way of attacking that is just being myself."