Park Pursues Competitive Figure Skating
As soon as freshman Ayne Park walked into the Galleria Mall, a large ice-skating rink full of people on ice skates caught her eye. As a fourth-grader, she immediately became drawn to the sport.
Starting off by taking lessons at the Galleria Mall, Park soon began pursuing skating more seriously. She first moved to the Dallas Stars Figure Skating Club, and later to the Dallas Figure Skating Club, which she has been a part of for the last several years.
As a part of the club, Park trained and took part in United States Figure Skating organized tournaments. A tournament she remembers as being particularly rewarding was the 2018 Midwestern Sectionals, in which she qualified after placing highly at the accompanying regionals competition.
"It was a pretty fun experience because it was at a little bit of a higher level," said Park. "Each time you go up, there are better skaters at each event. It was just really fun to compete against some people that I normally wouldn't."
In 2019, she also achieved success at the Broadmoor Open, hosted by the prestigious Broadmoor Skating Club in Colorado Springs. She competed in the Qualifying Round Freeskate, Short Program, Combined Short Program, and Combined Final events and placed second, third and fourth, respectively.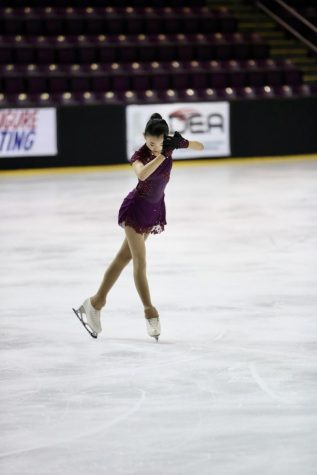 "I didn't go in with many expectations, but I got a medal in every single event that I [competed in]," Park said. "It was a rewarding experience."
In her work to further improve her skill, Park also attends training camps, such as US Figure Skating's 'Jump on It!' where she had the opportunity to learn more about her sport.
"A lot of really famous national skaters were also there, and they were helping [us]," said Park. "I also got to meet a bunch of friends from all over the nation and train with them for a week."
Although Park specialized in solo competitive figure skating for most of her career, she decided to switch to competitive ice dancing early last year.
Park explained that the switch mostly had to do with the content of her routines.
"Before, it was a lot of technical elements, like jumping and spinning," Park said. "Now, I do more of the artistic side of skating."
However, the beginning of quarantine due to the COVID-19 pandemic, meant that she was away from the ice-skating rink for months immediately after making the change.
"We weren't able to go to the rink for the entire summer, so I was home doing off-ice training, running, Zoom meetings, and stuff like that to stay in shape," Park said.
Park was able to return to the rink in the fall of 2020 with specific goals in mind. She is now focusing on new programs for the Dallas Cannon Classic Dance Competition and the Oklahoma Open. Both competitions will be occurring this summer.
Park is also working towards becoming a triple gold medalist in the United States Figure Skating Tests. The tests, which are offered monthly, assess an athlete's proficiency at different skating-related skills.
Currently, Park has earned a gold medal in the 'Moves in the Field' and 'Singles' categories and is aiming for the 'Ice Dancing' medal next.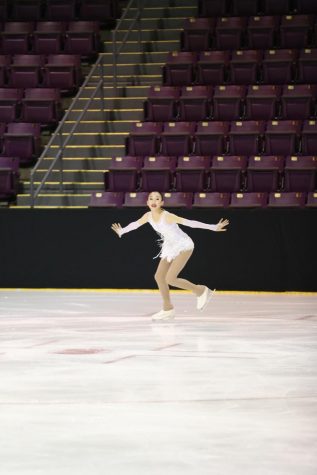 In order to accomplish these goals, Park has had to maintain a rigorous schedule. Her daily routine starts off with a 6 a.m. practice, where she trains for two hours before heading to school. On a normal day, training picks up again after school from 5-8 p.m., but this fluctuates depending on her extracurriculars, such as her flute lessons.
"Because it takes up a lot of time, I also learned how to manage my time outside of skating," Park said.
In addition to time-management skills, Park says figure skating has taught her the value of persistence and determination.
"It's a solo sport, so I have to push my own self," Park said. "A lot of it is self-discipline."
According to Park, skating has been an important vehicle for self-expression and growth.
"I have the opportunity to express myself artistically while also pushing myself physically and mentally," Park said.