Muñoz Returns to the Hill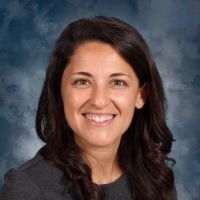 Sixteen years after graduating from Greenhill, Assistant Director of Equity and Inclusion Monsie Muñoz says she is very happy to be serving the very community she was once part of as a student.
Muñoz has served in her current position since the beginning of the 2020-2021 school year.
When Muñoz was first interested in teaching at Greenhill, it was because of the Carter Teaching Fellowship Program the school offers. It is a unique program designed to allow young teachers to shadow and be mentored by senior teachers.
"It is not something you can find at a lot of independent schools," Muñoz said. "I was curious to find out what it would be like teaching at an independent school, and the Carter Teaching Fellowship seemed like an amazing opportunity."
After one year, Carter Teaching Fellows can choose to apply for a position at Greenhill or take the knowledge they gained to a different school.
Ultimately, Muñoz made the decision to teach at her alma mater.  Since then, Muñoz has been an Upper School English teacher and a Varsity Cross Country coach at Greenhill, and this past year, she became the first Assistant Director of Equity and Inclusion.
Freshman Rajan Gaitonde, who is in one of Muñoz's English 9 classes, appreciates the engaging nature of her class.
"Ms. Muñoz is a good teacher because she uses current events to show us how themes in the books we're reading apply to us today," Gaitonde said in an email interview.
Muñoz's latest role, Assistant Director of Equity and Inclusion, is a new position at Greenhill this year. Muñoz had served as an Equity and Inclusion Coordinator at another school.
Muñoz helps with various student-led equity and inclusion initiatives.
"Things like affinity group spaces, DADYO (Dallas Area Diversity Youth Organization), SDLC (Student Diversity Leadership Conference), any groups, any student programming or content, that goes in my profile," Muñoz said.
Because the school hired a new Equity and Inclusion Director, Dr. Marcus Ingram this past year, Muñoz thinks Greenhill wanted someone who knew the community well to assist him in his job.
"Part of my role is helping [Ingram], giving him context for our school and helping in this leadership transition," Muñoz said.
Ingram says he values Muñoz's expertise and enjoys working with her.
"Muñoz is a positive presence and deft problem-solver. Her measured risk-taking is motivated by curiosity and a desire to learn new things," Ingram said in an email interview. "I am beginning to understand her as a type of bridge figure between the history and future of Equity and Inclusion at Greenhill School."