Greenhill Theater to Perform The Little Mermaid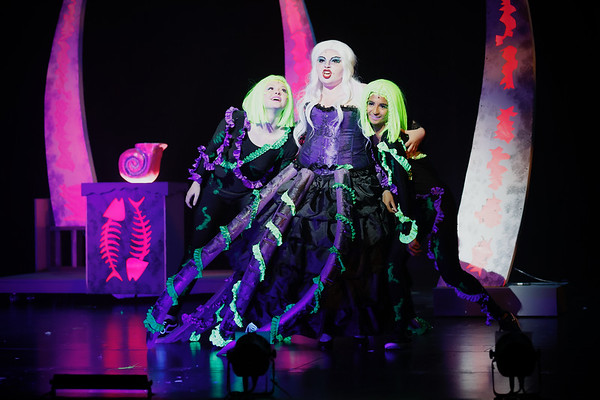 Greenhill's production of "The Little Mermaid" is set to run from April 21-23, with four total showings.  With over 75 students from Upper School, Middle School, and Lower School, this is set to be one of Greenhill's biggest productions yet.
"The Little Mermaid" first premiered as a Disney animated feature film, in 1989.  It was met with critical acclaim, praised by many.  It was a commercial hit as well, earning $84.4 million in North American box office sales alone.
The music and score were endlessly complimented, making it a suitable candidate for Broadway adaptation.  The musical "The Little Mermaid" opened on Broadway in 2008, running until 2009.
Upper School Drama and Theater Director Valerie Hauss-Smith decided to pick "The Little Mermaid" as the first musical post-pandemic because of its lighthearted nature and joyful plot.
"We wanted to try and do a piece that the whole school can come to see, so we thought about Disney," said Hauss-Smith.  "We saw that there was something with 'The Little Mermaid' that made it a fan favorite."
Following the limitations of the filmed musical last year, Hauss-Smith wanted to make sure that this year's play would draw a large and diverse crowd within the Greenhill community.  Since everything regarding theater felt distant during the pandemic, Hauss-Smith hoped that with a well-known Disney musical, the Greenhill community would be brought closer together.
However, choosing a Disney musical comes with its disadvantages.  According to Disney's copyright law, any production of the musical cannot be altered or cut down in any way.  Despite the challenges, rehearsals are running smoothly, and excitement is growing leading up to the opening night.
Hauss-Smith, along with many students, is excited to finally perform for a live audience again. Going into this year, Hauss-Smith had high hopes.  Her hopes have now become reality, as Rose Hall is expected to be a full house for all four showings of "The Little Mermaid".
"It's been a while since Greenhill's done a full production, so it was a little difficult at first, but we've really gotten into it throughout the semester," said junior Teddy Robinson, who is playing Prince Eric.
In Greenhill's production of "The Little Mermaid", sophomore Sanjna Kalisetty and senior Kayla Rutner share the lead roles of Ariel and Flounder.  Double casting is quite uncommon in high school theater productions because it doubles the workload for both students.  With this casting, Kalisetty and Rutner both perform two shows as Ariel, and two as Flounder.
"When it came to Flounder and Ariel, we saw that these two students that auditioned had potential to do the funny Flounder part and also the Ariel part," said Hauss-Smith.
Even though Kalisetty and Rutner have had to learn two sets of lines, they both enjoy the experience and have learned a lot.  Throughout rehearsals, they have been working together and communicating well to ensure their success and the success of the production.
"Kayla and I were able to find a system that really worked," said Kalisetty.  "We are able to communicate with each other, which makes it a lot easier."
Although it was a daunting task at first, Hauss-Smith observes that Rutner and Kalisetty work like professionals.  As one of them runs scenes, the other is always taking notes and cutting the reexplaining time in half.
"It's definitely a lot of work, but I'm glad I'm doing it with her," said Rutner.  "We get along really well so it works out well."
One challenge for the entire cast is that rehearsal time has been cut drastically.  Instead of meeting every single day for two hours, they only meet every other day for an hour and a half.
"We've got a more constricted timeframe than usual, but it's coming together nicely," said Robertson. "Everyone's putting all their effort in."
Kalisetty and Rutner have shared some memorable experiences while rehearsing, and the whole cast has been able to develop a tight bond throughout the process of bringing this production to life.
Not only has the cast been able to easily communicate with each other, but they have also always felt at home in Greenhill Theater.  According to Hauss-Smith, everyone is extremely supportive, and everyone works day in and day out to cultivate the best possible environment.
This will be Rutner's final production with Greenhill Theater, after four years and eight productions.  Looking back on her experience, she feels sad to be leaving Greenhill Theater behind.
"I'm kind of sad, but it's nice to be the lead as my last role," said Rutner.
Over the years, Rutner has made many unforgettable memories and believes that Greenhill Theater has had a huge impact on her life.
"It's pretty much made my high school experience, being a part of Greenhill Theater," said Rutner.  "The theater faculty and students are definitely like a family to me, and they've been a huge part of my Greenhill experience."
Kalisetty and Hauss-Smith hope to continue to improve Greenhill Theater in the coming years. For now, however, they hope for "The Little Mermaid" to have a packed house for all four showings.
"When we performed for the first time under the lights, I could see how great it was going to be," said Hauss-Smith. "All I could think about was that this is going to be a [wicked] show."