Greenhill Lands Two More Nationally Ranked Basketball Recruits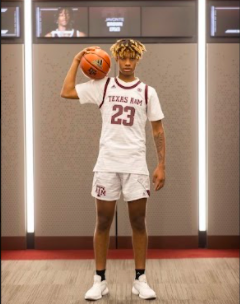 After the arrival of 5-star recruit Lee Dort and Noah Shelby last year, Greenhill has two new nationally ranked basketball players: Micah Robinson and Francis Chukwudebelu.
Robinson, a 6-foot-7 sophomore, played basketball his freshman year at Frisco High School. His team had a record of 14-3 in district play and 22-7 overall.
Currently, Robinson has a full scholarship offer from two universities: Texas Tech University and Southern Methodist University. Robinson views these opportunities as a validation of his hard work.
Robinson has committed to playing basketball for at least three hours a day; however, basketball is not his only focus.
"Education is always first because I know that basketball isn't forever. [If I get] one injury, I could be done," said Robinson. Thus, he tries to keep an even balance between school and basketball.
Education was the main reason that Robinson chose to come to Greenhill, but, of course, the basketball program was also an important factor in his decision.
"The education is just better here, and the opportunity for basketball also. Our team this year we have some new pieces (Francis) and are looking to change the narrative," said Robinson.
When he's not on the court, Robinson enjoys doing activities such as playing video games and watching Netflix. He also likes to write.
"I like to write about my thoughts," he said. "It's calming and relaxing."
Robinson's new teammate Chukwudebelu was born in Nigeria and moved to the United States in 2018. Although he loves the game now, the 6-foot-11 freshman has not always played basketball. When he arrived in the U.S., he met a coach who said he should try basketball.
"I used to play a lot of soccer when I was younger," he said.
Chukwudebelu played his first two years of basketball for the Prestonwood Christian Academy, a private school in Plano, but had to take a break due to a torn meniscus. Now, however, Chukwudebelu is ready to take on the court.
"I'm good. I'm ready for the season," he said,
The main reason Chukwudebelu came to Greenhill was because his friends, seniors Noah Shelby and Lee Dort. Both are committed to Vanderbilt University for basketball.
"I'm trying to play with [Noah and Lee] before they go to college next year," he said.
Chukwudebelu is only a freshman, so he does not have any official offers yet. However, Vanderbilt University and Duke University among other schools, have expressed interest in him.
While they have only been at Greenhill School for a few weeks, both Robinson and Chukwudebelu say they feel accepted and embraced by the Greenhill community.
Varsity Boys Basketball Coach Joey Sims is also excited by the arrival of the two new players.
"[They have] very high character [and are] very coachable guys," Sims said.
The roster for Greenhill's basketball program looks good this year and when asked what to expect this year Robinson said, "It's going to be special. That's all I'll say, stay tuned."