Greenhill Announces First Positive COVID-19 Case
Greenhill announced its first laboratory-confirmed case of COVID-19 on Tuesday, Head of School Lee Hark announced in an email to families.
Hark disclosed that a student contracted the virus but declined to reveal the identity or division of the individual. The student was last on campus on Sept. 18, the email said.
"We are coordinating our efforts with Dallas County Health and Human Services (DCHHS) to promptly identify and monitor individuals who have had recent contact with the COVID-19 positive individual to prevent further spread within our school and community," Hark wrote.
Greenhill students began returning to campus in a hybrid learning program on September 8, with some students choosing to learn in-person on a week-on, week-off basis. The school suspended in-person classes on March 13 and finished the 2019-2020 school year remotely.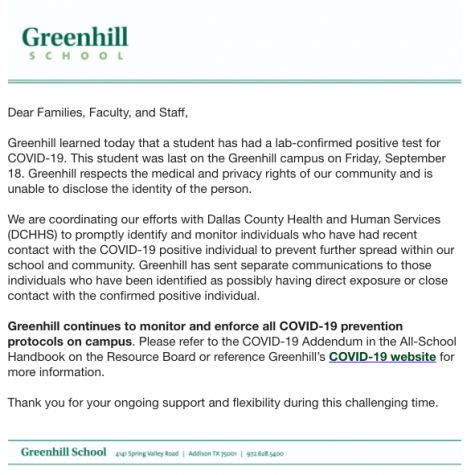 It's unclear how other students might be impacted by the positive case due to contact tracing protocols.
"Greenhill has sent separate communications to those individuals who have been identified as possibly having direct exposure or close contact with the confirmed positive individual," Hark wrote. "Greenhill continues to monitor and enforce all COVID-19 protocols on campus."
Students are faced with a monthly decision of whether or not they want to attend school on-campus or remotely. Whether the announcement of a positive test will impact the decisions of stay-at-home learners is also unclear.
Junior Ashton Higgins said he was considering resuming in-person classes in October, but decided to remain in remote learning because of continued concerns with the high national levels of COVID-19 cases.
"Finding out someone already got sick only reinforced my opinion that it is still unsafe to return in person and my decision to remain at home," Higgins said.
While the confirmation of a COVID-19 case in the Greenhill community might cause some families to reconsider their choice to return to campus, other students said they were not surprised.
"Obviously it does make me apprehensive, as it probably does to everyone, but I knew something like this would eventually happen and I think Greenhill is handling things well, so I will be returning," said junior Mikah Finley. "Only one case for a full month is impressive."
Many felt that cases were inevitable and trust Greenhill to limit the impact of the pandemic on the school community.
"I feel like Greenhill is doing a great job of keeping everyone safe and taking the appropriate precautions, so I feel very comfortable with the in-person environment and the positive case will not change my decision," said senior Lucy Sayah.