Google Home Point- Counterpoint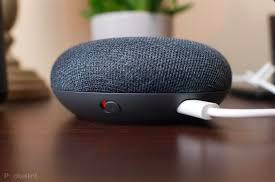 Lola, Google Home Mini (FAN)
I finally received my Google Home Mini! After watching a Tik Tok, I learned that Spotify will send a free Google Home Mini to anyone who has Spotify premium, and I immediately jumped on the offer.
The Mini is so handy! It was very easy to set up and it's so cute and small. The speaker has similar features to Amazon's famous "Alexa". You can say "Hey Google" followed by almost anything and get the speaker to provide you with help. I've been looking for a speaker for a while, but have been hesitant to splurge on high-quality ones. I was so excited when I found out I could get a free speaker and it would perform other functions than just playing music.
I use my speaker frequently to play music, set alarms, ask about the weather and many more functions. My Mini is a light blue color. It is also very loud and you can connect your house through the TV, lights, and other services.
If you have Spotify premium, I highly recommend grabbing this deal, since it's only a click away. Or, if you are in the market for a fairly inexpensive speaker, the Google Home Mini starts at $49. So far, I am highly impressed with Google's product and hope to be able to use it for a long time.
Brent, Google Home Mini (NOT A FAN)
Although the Google Home Mini might seem like the best thing to ever happen to you, that's all false. Personally, I do not consider myself a fan of the Google Home Mini.
Before ordering the Google Home Mini I was so excited, who could not be! However, when I received the speaker my feelings towards the product changed drastically. It started to make sense as to why the speaker was being offered for free, because it is worthless.
First off, the sound quality is very underwhelming. Second, the user interface is impossible to deal with. Rather than connecting a normal speaker through settings, with the Google Home Mini, you must download an app, make an account, and wait ten minutes for the speaker to pair.
I used the speaker for about an hour then I decided that it would be best to just unplug the speaker and go on with my normal life. All in all, I was able to understand why Google Home Mini is free.