Girls and Boys Varsity Tennis Prepare for the SPC Championships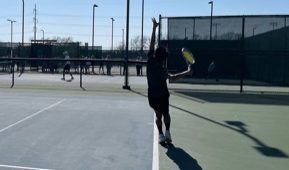 With the SPC tournament fast approaching, the Greenhill Boys and Girls Varsity Tennis teams are both seated number one in the SPC North Zone.
The boys are led by senior and four-year varsity player Josh Rubel.  Finishing with a counter-season record of 5-0, the team will look to make a deep run in the tournament on April 28-29.
"An especially big reason towards our success is the bond we have created this year," said Senior Adam Moustapha.  "I am very proud of the winning culture we developed that we haven't had in years past.  It made us even hungrier to compete this year."
Moustapha and his fellow teammates have been preparing all season for this tournament, and they are hoping to bring home their first SPC championship since 2017.
The girls were led, once again, by senior Abby Platt.  Platt has committed to play Division One tennis at Bucknell University and has had a very successful four years on the team.
"We are currently undefeated in counters," Platt said.  "We have very big things coming."
Sophomore varsity player Sophie Schwartz, ranked among the top 75 players in the country for her age group, agreed with Platt that the team's chemistry was the main reason for their success.
"It was unreal," Schwartz remarked.  "This is the closest team I've been on in the two years I've played."
The team is looking to rally behind the leadership and tenacity of Schwartz and Platt during their SPC run in just a couple of days.
Both the Boys' and Girls' Varsity Tennis teams will travel to Houston on Thursday for the SPC championships, where their hard work and success this season will be put to the ultimate test.