Food Review: The Sushi House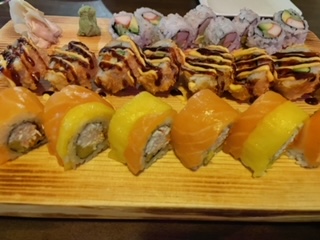 Tucked away among the iconic shops and restaurants lining Lover's Lane, The Sushi House serves traditional yet elevated Japanese cuisine.
Helina Tedros, Payton Blalock, and I were seated at the singular outdoor table, looking out at the hustle and bustle of a usual Friday night. The waitress stopped by early on, explaining the checklist-style nature of the menu and underlining her recommendations.
I ordered the renowned Mango Tango Roll, Blalock went for the classic California Roll, and Tedros adventurously chose the Dallas Burn Roll.
My roll came covered in brightly colored salmon and mango, stuffed with crab and pineapple, with the sweet flavors balancing the savory. The chewiness of the rice offsets the smooth texture of the salmon and the fleshy mango. However, the taste was reminiscent of the countless tropical rolls I have eaten in the past.
Blalock's California roll was fresh and well-balanced – the salty crab was tied together with the creamy avocado and a fresh kick of cucumber. The rice and crab create the perfect storm of textures.
The Dallas Burn Roll was enveloped by crispy rice and ridden with flavors of tempura, topped with spicy sriracha mayo and a soy glaze. The crunch of the sweet and salty outer layer contrasted beautifully with the spicy shrimp interior.
Finally, we finished our meal with mango and strawberry mochi, which is ice cream wrapped in sweet rice dough. The mochi was creamy, rich, and tangy, and was balanced out with dark chocolate and cream.
Overall, the Sushi House wins a 5/10 on service, a 7/10 on food, and an 8/10 on experience. My final rating for the sushi house is a 7.6/10. The charming setup, amazing food, and unforgettable experience make the Sushi House a must-visit for Dallas locals.