Eighth-grader Sophia Bock Becomes Head of School For the Day
A fan-favorite tradition of many, Greenhill has allowed one student to be awarded Head of School for the day, which was auctioned off at the Greenhill Gala in March 2020. This year's winner is Sophia Bock, an eighth-grader, who performed her duties on Oct. 20.  
Bock was very excited to become the Head of School just as her brother, Ian, did when he was in eighth grade.  
"[Ian] said it was really fun and I was like, maybe I'll ask my parents if I could do it too when I'm older. And I'm older," said Bock. 
Bock's day began by walking over to Foote Lower School and reading a book from the Piggie and Gerald series in addition to another book written by the same author, Mo Willems, to First Grade teacher Mary-Ellen Brence's class.  
Bock says that one of her favorite parts of the day was getting to join the Upper School Theater Company as acting is a huge part of her life.  
"[The class] was editing monologues… so I was given a monologue to edit too," she said.  "Then I performed a cold read and they performed their monologues too."  
When asked if this experience inspired her to work in education when she is older, Bock stated that she "has [her] heart set on it, like acting when [she's] older." However, she was very happy to be able to become a help at Greenhill. 
She got to take a golf cart tour of the campus with Lee Hark, the non-student Head of School. "We went to the [Marshall Family Performing Arts Center] and we scaled four ladders and we went to the top of the MPAC." Bock implies that this was a huge bucket filler of her day. 
Bock also got a Frappuccino from Starbucks with Assistant to the Head of School Kasia Faber who helped orchestrate this experience for her.  
Bock got to write an email addressing the adults in the Greenhill community requesting the privilege for her grade to be able to go to the Buzz in addition to the announcement of what she chose for the dessert at lunch.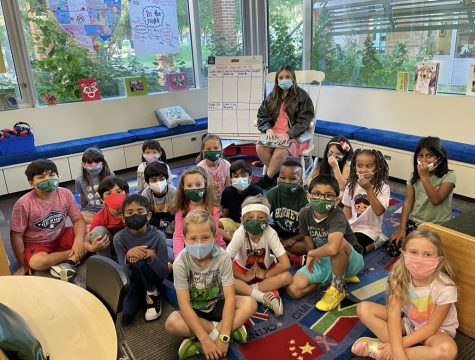 "I am extremely excited to see Greenhill through another lens," she stated in her email. "If possible, I would like to ask that from now on the 8th graders be allowed to the Buzz right before athletics and games, and after. As the seniors of middle school, the 8th graders would not abuse this privilege. I hope you consider my request. Enjoy your Ice-Cream today at lunch, it's my favorite and I hope you like it too." 
Bock was allowed to bring five friends to eat lunch with her in the Private Dining Room of the West Dining Hall to enjoy their ice cream together. 
 At the end of her day, Bock had a quick wrap-up with Hark. 
Bock says that if anyone is hesitant about taking this experience as she was, they should "go for it."