Diwali Festivities Return to the Upper School
For the last 18 months, all Diwali celebrations and traditions have been put to a halt due to COVID-19. SASA (South Asian Student Association) has made a big effort to reinstall those events for the Upper School to enjoy.
"For me Diwali means ignition," said SASA co-leader Kailash Lele. "Lighting lamps to me symbolizes igniting the soul."
Diwali is the festival of lights to celebrate the victory of good trumping evil. This is a true testament to what many students must overcome. Not only do students that identify as South Asian are allowed to participate but all students are welcome to join in on the fun and new learning experiences that this past week has brought us.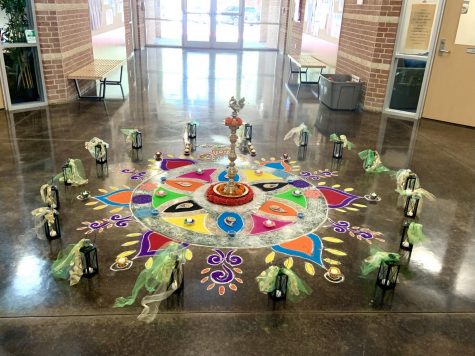 "We're all proud of our culture, and I'm glad that Greenhill gives us the space to share it with others and that the student body is so receptive and eager to learn about other cultures as well," said senior Prisha Gupta.
Culture is one of the main pillars in the Greenhill community. The community allows students and faculty to express themselves in any way they choose. Not only does SASA help set up decorations, but they bring a little bit of the home experience to the Upper School.
"This year we were able to do more than normal, having a Diwali station, distributing food today, and having a potluck," said senior Jothi Gupta.
Diwali isn't just a Hindu holiday. Sikhs, Jains, and some Buddhists also celebrate Diwali, and it means something a little different for each religion.
"Diwali is celebrated by different religions and it holds a different significance to different cultures," said sophomore Sanjna Kalisetty, a member of SASA. "I am very excited [to celebrate] and I'm happy to see the impact SASA has made in our community with the rangoli and potluck."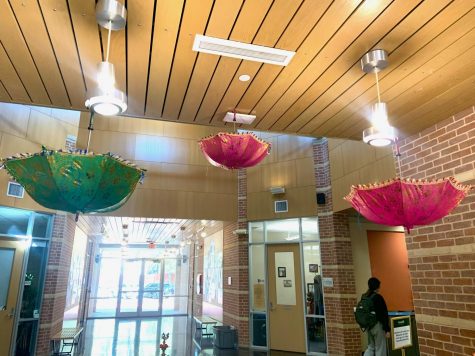 Many students and teachers also chose to dress up to celebrate Diwali, including non-Hindu teachers, who showed their support for the holiday and religion by wearing saris. Henna stations have been set up around the school for those who want to partake in celebrating the important holiday in this way.
"South Asian students here love to share their culture with other people and express themselves that way, and I think that can only make Greenhill a more vibrant place," said Prisha Gupta.