AVP Students Prepare for Competitions
As a continuation of my series about how teachers are adapting to the new hybrid model of learning, I spoke with Middle and Upper School Visual Art teacher Corbin Doyle about the ways that he has restructured his curriculum for the Advanced Video Production (AVP) students this year.
In previous years, AVP has been a trimester course, but this is the first year that is being offered as a yearlong class. With the yearlong plan in place, this has allowed for AVP students to devote more time to the process of creating their films rather than solely focusing on the product. The first major project that students were assigned was a group film due this month.
"I believe in process over product," Doyle said.  "I know the process of individual projects is very empowering, but sometimes for newbie AVP students it can feel like a lot to handle, so hopefully, all of them having a group project under their belts will ease this process."
The shift to the new learning portal, My Greenhill, this year has also aided Doyle in assisting his students with the creation of their films no matter where they are tuning into school. My Greenhill has allowed him to provide his students with many detailed online resources that help walk them through every step of the creative process of making a film.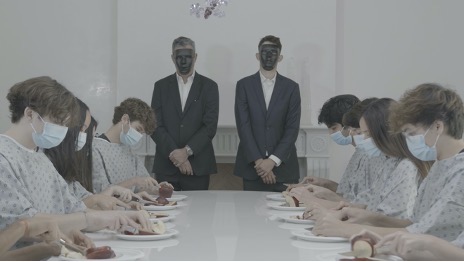 The December film deadline was the first major project that the AVP students worked on this year. Any students who worked in groups were adhering to COVID-19 safety precautions and Doyle gave students materials they needed.
While most films are usually created with the cameras that Doyle lends to them, this year many of the students substituted those with their phones. Greenhill also got all of the AVP students' licenses for the editing software Adobe, so they have access to that at home as well.
In addition to how the COVID-19 outbreak has affected the AVP students' processes of making films, it has also taken a toll on submitting films to festivals, which is an important part of the AVP curriculum. There have been statewide meetings about all aspects of Texas filmmaking including what will happen with big film festivals such as the Austin Film Festival and the South by Southwest conference and festival this year.
Many events have been canceled completely already, and it looks like smaller festivals will be following that trend as well. This is also happening on a global scale because many of the festivals across the world that AVP students usually submit their work to won't be happening this year either. While the Austin Film Festival and South by Southwest will be happening virtually this year, it is important that students look out for new avenues to showcase their work.
Doyle has reached out to AVP alumni asking them to send messages of affirmation by letter and a video message to the current AVP students in hopes that this will encourage them to keep creating during these trying times.
Be on the lookout for the December films that will be released soon.