World School Debaters in Public Debate
For the first time, Greenhill and Hockaday debate teams combined forces to participate in a public debate in Dallas.
The debate was made up of two teams of four students. Each team was made up of two Greenhill and two Hockaday debaters. The debate was about whether each side supported the rise of charter schools.
The debate was in a World Schools format. The teams were given the sides they were meant to defend, so their support didn't necessarily mean they had that opinion.
Greenhill debaters Aimee Stachowiak and Caroline Greenstone were on the proposition (not supporting the rise of charter schools) while Jothi Gupta and Ashley Shan were on the opposition (supporting the rise of charter schools) and Cameron Kettles was the moderator.
Three Dallas-area lawyers judged the debate and made a unanimous decision that side opposition won the debate. The winning team included Shan, Gupta and two Hockaday juniors: Sarah Crow and Mia Xia. Gupta also won the speaker award.
Parents and members from the Dallas community were invited to attend the debate. Miguel Solis, member of the Dallas ISD Board and previous Dallas Mayor candidate, was also in attendance.
The debate took place on Tuesday, Feb. 5, at the Old Parkland debate hall.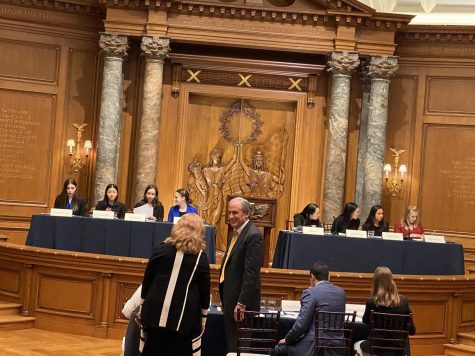 Leave a Comment