Greenhill Track Competes in Texas Relays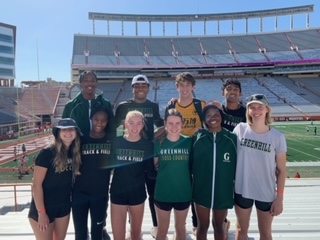 Greenhill Varsity Track traveled to the University of Texas at Austin on Thursday, March 24.
Athletes competed in the 4 x 100 meter relay on the 25th and the 4 x 400 meter relay on the 26th.  Senior Jorhdyn Tarpeh also competed in the girls 100-meter hurdles.
One of the meet's highlights was Tarpeh's performance in the 100-meter hurdles, during which she earned a personal best time.  She ran a time of 14.69 seconds in round 1, where she finished first in her heat and third overall.
This race qualified Tarpeh for the finals, where she ran against eight of the other qualifiers and ran an improved time of 14.31 seconds.  She placed second overall in the finals.
Another highlight of the meet was the boys 4 x 100 meter relay.  The boys 4 x 100 meter relay was run by juniors Aaron Johnson and Jaden Watt and seniors Jason Estrada and Brodric Houston.
They ran a time of 42.97 seconds in the preliminary race, qualifying for the finals and running the third fastest time in school history.  In the finals they finished 7th overall, running a time of 43.36 seconds.
"This marks the first time in my 22 years at Greenhill that a boys 4 x 100 team has made the finals at Texas Relays," Head Track Coach Stacy Johnson said in his email to the track team.
The girls 4 x 100 meter group ran 51.13 seconds and placed 22nd in the preliminary race.  Their team was made up of Tarpeh, juniors Celina Prieur and Leah Smith and freshman Jenna Travers.
The girls and boys 4 x 400 meter groups improved their times from before but didn't end up qualifying for finals.  The boys finished 16th in preliminary race and the girls finished 15th in preliminary race.
"We look forward to continuing to make the Texas Relays a yearly tradition for our athletes," Johnson said. "It is truly a tremendous experience."