Integrating Classes, Hearts and Minds
Teachers Include Lessons from PoCC Into the Classroom
Two months after attending the People of Color Conference in Seattle, some of the 21 Greenhill faculty members who attended the annual gathering say they are drawing on their life-changing experiences to transform their classrooms and community.
Middle School science teacher Hennah Abubaker said she was so inspired by her experience at PoCC that she has incorporated social issues into her science classes. When her seventh graders were working on a unit on genetics, she had her students create scientific posters to show that race is not encoded in genes. Working in groups, the students form bonds with people that they would not normally work with, Abubaker said.
"Race is a social construct," said Abubaker. "I wanted to introduce that to the students and they were so open to it. I had students of color and not of color come up to me and thank me for doing that. After PoCC, I decided that I needed to be the change."
Stephanie Almanza said students in her Upper School AP Spanish class have also brought back knowledge from the conference.
In her AP Spanish class, her students had been watching a Spanish television series from Mexico called Corazon Contento that they would tie into the themes they were learning throughout the year. The show features Mexican actors that are mostly light-skinned, and Almanza made sure to point out that people with lighter skins are picked for more acting roles.
"Especially in language, history and English courses, as much as we learn about culture, we should be incorporating a lot more diversity into our curriculum," said Almanza. Even in other disciplines, there are ways to incorporate more culturally balanced lessons."
"We Need to Talk"
The December conference that has inspired Abubaker, Almanza and other Greenhill faculty and staff is an annual event organized by the National Association of Independent Schools (NAIS). It's held in conjunction with the Student Diversity Leadership Conference, which was attended by six Greenhill students. Both events lasted four days.
The People of Color Conference is at the core of the national association's stated mission to address equity and justice in teaching, learning and organizational development.
"The difference between SDLC and PoCC is that [PoCC] is more related to employment, how to deal with your authentic self, self-care, and social justice," said Librarian Sonja Hayes, who attended the PoCC conference.
In her keynote speech,  Dr. Joy DeGruy presented her findings on Post Traumatic Slave Syndrome, which she said explained how present-day actions can be connected to the repercussions of the slave trade.
DeGruy gave an example of one of slavery's legacies: When a white mother introduces her son, she praises him and proudly boasts about his accomplishments; a black mother simply says her son's name without mentioning his accolades, a phenomenon DeGruy traced to slave mothers deprecating a child so that he would not be sold.
"These are things that you would not even think to consider, but the way she presented everything was very eye-opening," Almanza said.
Other conference speakers included CEO of Tomorrow and bestselling author of The Algorithmic Leader, Mike Walsh; civil rights activist, award-winning filmmaker and founder of the Revolutionary Love Project, Valerie Kaur; and associate professor at the School of Educational Studies at the University of Washington Bothell, Wayne Au.
The conference gave attendees a safe space in which they were able to connect with people with similar backgrounds and share their own stories with no judgment,  Abubaker and Almanza said.
"I've realized that many students of color and faculty of color try to be politically correct to fit in," said Abubaker. "People don't want to embrace their truth because they're scared they won't fit in or belong."
Hayes said that sharing her story of being the only African-American librarian at Greenhill "allowed me to find my voice.  Every day we wake up and we can't take our color off. To make someone else understand that is hard because they are not in my shoes."
Almanza found the conference emotionally challenging.
"I am an introverted person and I normally keep my distance, so being around so many people and being emotionally challenged for four days in a row was tough," said Almanza. "Because of my introversion, I also feel like I do not use my voice at Greenhill as much as I should, if not for me then for students that look like me. One of my biggest takeaways is that we need to talk, and we need to at least try to do something."
At the end of the conference, all the Greenhill delegates gathered to discuss their experiences. Hayes said there were no dry eyes by the end of the conversation.
"All of the students and faculty members found their voice while they were there," Hayes said. "I think that is why I was more emotional. A couple of the students I had never heard talk a lot and so it was really amazing to how strong and confident their voices were."
The discussion also produced straight talk about life at Greenhill, and what the participants viewed as areas where work is needed.
"Greenhill says it's a diverse community, and if you look at it, it is," Almanza said. "We do have a lot of different races represented within our different classes, but just because it's diverse that doesn't mean that it's inclusive."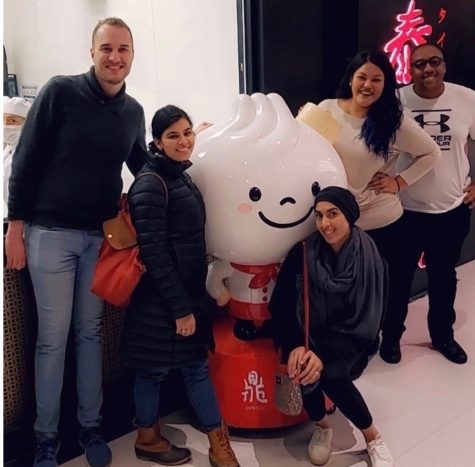 "In Community Together"
The transition back to daily life at Greenhill has been challenging for some of the PoCC participants.
Abubaker said she has seen two sides to life at Greenhill: diversity in numbers, especially compared to many other schools, but deficiencies in other areas.
"It is important to me that I can come to school and wear my headscarf and not feel threatened in any way," she said. "This is the first school that I have been able to feel this way. But there are other things such as other faculty members' misjudgments or ignorance and other students' lack of empathy or knowledge about how certain people dress."
Abubaker has sought to infuse her eighth-grade science class with lessons and inspiration she took away from POCC. During a unit about water pollution, she discussed the Flint water crisis, the public health crisis that came to light in 2014 after state government officials changed the water source for the Michigan city. Casting the crisis as a political attack on the area's poor and predominantly African-American population, she supplemented her lectures by showing the confrontational Michael Moore documentary film "Fahrenheit 11/9."
"I feel like if we are not teaching real things and we are just teaching them the Ph of whatever and they can't apply their knowledge to the real world," said Abubaker. "I feel like I am doing a disservice to the kids coming here if I am just teaching them what is in the textbook."
While social issues can be difficult to address, Abubaker said she makes sure that all her students feel safe to express their opinions and share their ideas.
"Right now is the time to open the door of conversation," Abubaker said.
Abubaker credits her four days in Seattle for equipping her with other skills she is putting to use in her classes.
"I am more aware and tuned in to microaggressions now than I was before, but I also am more tuned in to the students of color and work with their needs better," Abubaker said. "I ask kids more personal questions which helps me build a better relationship with them, and it is because of the things that the SDLC students shared at the conference."
Across campus, a conversation is ongoing among administrators, faculty and staff about how to make Greenhill more equitable, inclusive and culturally competent.
"The platinum rule really applies here: Do unto others as they would want done to them," said Karen Bradberry, director of equity and inclusion.  "I will stand up for your right to have your beliefs, and likewise, I want you to stand up for me and my right to hold a differing position. And, because we are in the community together, we don't just do this for ourselves; we do it for everyone else.
Leave a Comment