Hornet Night on the Hill
Greenhill hosted its annual Hornet Night on Friday (Jan. 24), where students, friends and family were invited to come out and support the school's sports teams who have league games.
Both Boys and Girls Varsity Soccer and Basketball teams will be playing their games at home. Throughout the night there will be many student-run events and other fun activities at Greenhill. People are encouraged to come to watch the games while enjoying Cane's or pizza.
Last Thursday, in their league opener, Boys Varsity Soccer beat Episcopal School of Dallas (ESD) 4-2 in a comeback after being down 2-0 at halftime. Goals were scored by Arjun Lal, Jake Nelson, Marc Melgarejo and Spencer Jacobs.  They're hoping to build on their momentum during Hornet Night against Trinity Valley School (TVS) who is 0-2 in league play thus far.
"Playing on Hornet Night means a lot because hopefully a lot of people come out to watch," said Boys Varsity Soccer player and sophomore Eyob Gebru.
Girls Varsity Soccer fought hard through the rain on Thursday night and ended with a 0-0 draw versus ESD.  They face TVS on Hornet Night and are hoping to get their first home win in league play. TVS is coming off a big 8-0 win in their first league game.
"Hornet Night is a great way to bring the high school community over a shared love of sports," said Girls Varsity Soccer player and sophomore Claudia Hurst.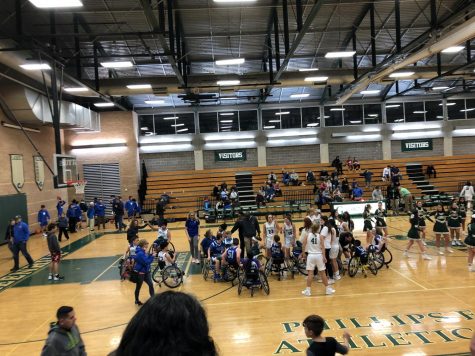 Boys Varsity Basketball is 1-0 after a 43-39 win versus rival ESD. They will be playing their first home game of the season to hopefully build momentum for their later game against TVS. Against ESD, Greenhill's leading scorers were Colin Mcdade with 12 points and Grant Bulmash with 10 points. TVS is 1-1 I league play thus far. The cheerleaders will also be performing during halftime of the boys' basketball game.
"It really helps to see all the fans come and support us and I hope they come out for Hornet Night." Said Boys Varsity Basketball player and sophomore Ryan Saqueton.
Girls Varsity Basketball is coming off a huge 63-20 win against ESD in their league opener. On Friday, they face a 2-0 team, TVS. They hope to continue their success. Their leading scorers were Kionce Woods with 17 points and Brooke Webster and Kaiti Gibson who each scored 12 points.
"The whole team is really excited for Hornet Night, we're hoping people come out to support us Friday," said Girls Varsity Basketball player and senior Kaiti Ness.
The Athletic Department is working to incorporate Greenhill's arts program into Hornet Night. They're going to try out something they have not done before at Greenhill.
We're either going to have someone sing or play an instrument during every game's national anthem," said Head of Athletics and Physical Education Jarret Shine. "We're just trying to make sure people feel connected in every aspect of Greenhill, hopefully, we can get people who are more involved in arts to come to the games."
Behind the scenes, people have been working for weeks planning different events for Hornet Night. For both the Boys and Girls Varsity Soccer games there will be hot chocolate and smores, with the hope of getting more people to go out to the soccer games. Throughout Hornet Night there will also be activities for students such as ping pong, a photo booth and more.
"We're going to have different activities to get the crowd involved during halftime. During halftime of the boys' soccer game we're going to have a penalty shootout [for students]," said Shine. "During halftime of the girls' basketball game, we're going to have the Dallas Jr. Wheelchair Mavericks Basketball teams play a 5-minute game. Then for the boys' basketball game, we're going to have a three-point shooting contest."
Leave a Comment